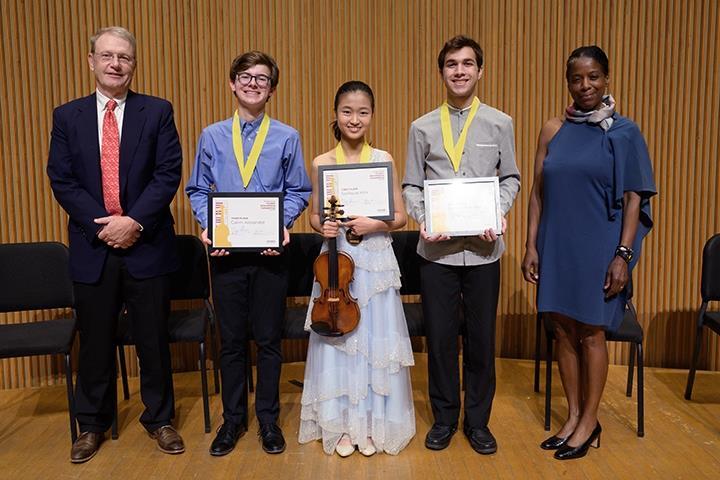 The Strad News – 13-year-old violinist wins Cooper International Violin Competition
The eleventh edition The Thomas and Evon Cooper International Competition took place August 15-19, 2022, at Oberlin College and Conservatory in Ohio.
After the August 19 final, 13-year-old South Korean violinist Seohyun Kim won the top prize, while Sameer Agrawal (17, USA) and Calvin Alexander (17, USA) won. won second and third prizes respectively. The three finalists performed concertos with the Canton Symphony Orchestra, conducted by Gerhardt Zimmermann.
Along with a cash prize of $20,000, Kim wins a two-year partnership with MKI Artists that will include up to 10 concerts or recitals across the United States. She secured exclusive world premiere rights to a new six-minute work for violin and orchestra by Jeff Scott and two years of performance. Additionally, Jonathan Solars Fine Violins of New York will provide a two-year loan of a rare Italian violin.
Agrawal and Alexander won cash prizes of $10,000 and $5,000 respectively. Each of the finalists was offered a four-year scholarship, after a successful application process, to the Oberlin Conservatory of Music.
Kim was born in 2008 and started playing the violin at the age of five. She is currently studying with Sunny Lee at the Seoul Central Conservatory and has been mentored by artists such as Pavel Vernikov, Ulf Wallin, Min Kim, Clara Jumi Kang, Qian Zhou, Clara Cernat and Lorenz Nasturica-Herschcowici. She has performed with numerous ensembles as a soloist since the age of eight and, in 2021, was a semi-finalist in the Menuhin Competition.
The 2022 competition jury included Oberlin violin teacher and competition director Sibbi Bernhardsson, as well as Danielle Belen of the University of Michigan, Philip Setzer of the Emerson Quartet and John Zion of MKI Artists.
Founded in 2010, the Thomas and Evon Cooper International Competition alternates the disciplines of piano and violin. The competition is open to musicians between the ages of 13 and 18, offering young finalists the opportunity to perform a full concerto with orchestra. Previous violin winners include American violinist Eric Charles Chen in 2019, Swedish violinist Johan Dalene in 2017.